Lorain County Ohio Ghosts and Hauntings
---

Gore Orphanage - Swift Hollow Mansion
Lorain County Metroparks
52380 County Highway 102
Amherst, OH 44001
Gore Orphanage (Actually Swift Hollow Mansion) is located on now Lorain County Metroparks property.
People have seen ghosts among the lush layer of poison ivy and tangled mire of brush at the sparse remains of Gore Orphanage in a remote area near State Route 60 in Lorain County, Ohio. They hear ghostly steps on the large slabs of stone from the front porch. There are sounds coming from the floor still laying nestled beneath the thick green canopy of trees and nearly hidden by cornfields and forests from the roadway. Screams bang off a raggedy stone wall. They hover over an old well made of flat creek stones. A gate post lingers amongst the forest growth and the aged limbs and branches that fell from the trees during the winds of winter and early spring. There are other echoes of the past atrocities, too, heard in screams and even a haunting sing-song voice belting out a child's nursery rhyme. Because it was here Old Man Gore, the rickety cruel man who ran the orphan asylum killed all of the children. Those who have the guts to drive down the old isolated roads and pause in the stillness hear laughter and the screams and voices of children.
The most daring once pulled their cars on to the gravel edge of the roadway, shut down their engines and flipped off their lights. They counted to five, then flicked their headlights on and off three times. Once. Twice. Three times was the charm to sit in the darkness and the silence and just. . wait. It was then, they would hear the pitiful, dying screams of orphans who had been locked into their rooms on that cold, dark night by Old Man Gore. It is said, most dare seekers were not disappointed.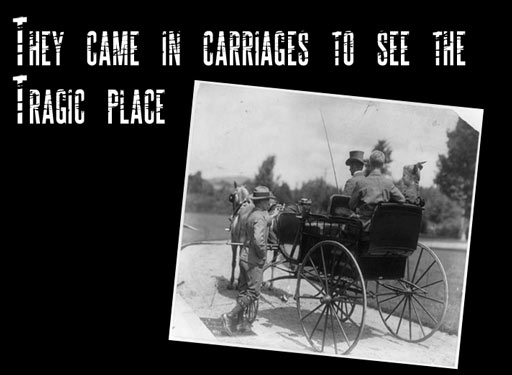 Swift Mansion
But even before they drove cars to Gore Orphanage, they came in carriages as early as a hundred years ago to listen to the legends, hear the screams, see Old Man Gore trudge up through the woods with an ax in his hand. They came to see the ghosts of orphan children in tattered clothing and latch on to the worst thing that could happen to a child—abuse and murder by one who should have been holding them, hugging them, giving them tender kisses on the forehead before bedtime prayers. Because one night, tired of their cries, Old Man Gore lit a match, caught the place on fire. The children, all of them, went up with the house in a fiery explosion.
But that is not all. That was the end to the tragedy. Here is the beginning: There was a Swift family who built the mansion there and two of their children died. The Wilber family who came after fared no better. Four of their grandchildren lost their lives to disease. Their ghosts wander the house, peek from trees, laugh at those who walk the paths around their old abode. Why wouldn't they? Their parents hosted elaborate séances at the mansion after they died and tried to bring them back. Bad luck, it would seem, started the whole mess with the orphanage in the first place. Because the land is cursed. If you take a stone or a stick or even an old brick with you as a souvenir to remind you how adventurous, bold and daring you were for visiting the orphanage, you will certainly have something hideous happen to you.It is the stuff that makes utterly great and horrid ghost stories - innocence lost, sad-eyed orphans trying desperately to flee a burning building, an evil old man and a horrifying way to die. There was death from disease and abandoned burials lost to time. And cursed land. The land just off Gore Orphanage Road has it all. And it is probably the reason the story has been perpetuated for a centuries, building upon itself, rising, falling, but never completely going away.
Because surely there is truth to it, isn't there?
<![endif]>
Perhaps, there is.
Johnathon Swift really owned the property in the early 1800s. A wealthy farmer in New England, he was deeded a homestead grant of 150 acres of land for his service to the country as a veteran of the War of 1812. In 1818, he married Elizabeth Root and began building a promising future in farming. He came to the small hollow nestled in the hills, built a cabin and began clearing the land. His farm grew along with his home and a family with six children as years passed. There was one loss, though, at an early date. Swift's five year old daughter, Tryphenia, died at age five in 1831. But by 1840 to 1842, he was able to build a substantial sized home in what was called Swift's Hollow. The price was exorbitant for the times at $5000.00.
His home, compared to a Greek temple, had fourteen rooms including two front rooms, six fireplaces, a basement kitchen, servant's quarters, servant's dining room and French-style windows and door frames. Four marble decorative columns were shipped from New York by boat and an oxcart.
The property surrounding it was well manicured and professionally landscaped with ornaments. To top it all off, Johnathon Swift fondly named it 'Rosedale'. Times were good at the estate, then his son, Heman, died in 1849 at age 24. By 1865 and due to poor investments, the Swifts sold their property to Nicholas an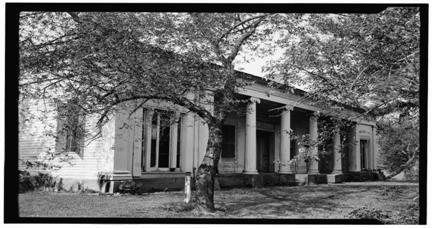 d Henrietta Wilber, Lumber Dealers from New York. <![if !vml]>
<![endif]> The new owners shared the home for some time with their son, Miller, and his wife, Harriet. For nearly 35 years, the family lived in the home, not a small amount of time. There was always talk amongst the townspeople the Wilbers were spiritualists along with family friend, Dr. Hudson Tuttle of Berlin. Odds are, this could be true. It was not something new at this time, nor a crime, even if many small town folks were superstitious of such things. In fact, during the mid-1800s it became quite a craze, performing séances in 'home circles' and trying to speak to the dead.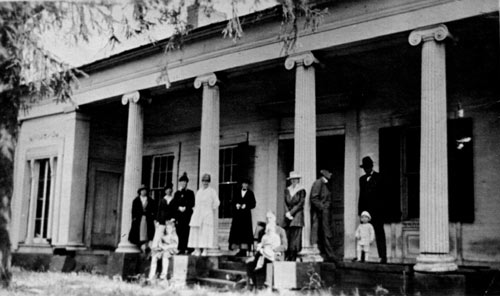 Tragedy struck in the early 1890s. Between January 13th and 19th, 1893, four of Nicholas Wilber's grandchildren (Miller's children) died of diphtheria when an epidemic swept across Ohio. All four children were buried next to each other at nearby Maple Grove Cemetery Jesse, age 11; May, age 9; and twins Roy and Ruby, age 2 1/2. They did not die at the home and instead in Berlin, Ohio.
They were hastily buried in Maple Grove Cemetery because of the chance of spreading the disease.Nicholas lived there until his death in February of 1901 and the home was sold to the Sutton family. It stood vacant for several years and became, even then, known as the Haunted House of Gore.
It was at this point some historians believe the ghost stories began, entwined with the tragic fire at Lake View Elementary in Collinwood, near Cleveland which was about 60 miles away. The horrific fire took the lives of 172 children, two teachers, and one rescuer and shocked the nation.On March 4, 1908, a steam pipe in the Lake View Elementary School's basement caused a wooden floor above it to overheat. Within a short time, the entire school went up into a blaze with no time for many of the students to escape. The Newark Advocate described it as this: -
The Greatest Calamity In The History of American Schools - One Hundred and Sixty-Five little Tots are Devoured by Hungry Flames —Newark Girl a Victim Scenes of Horror That Beggar Description—Parents Compelled to Stand Helpless While Little Ones Die Before Their Eyes.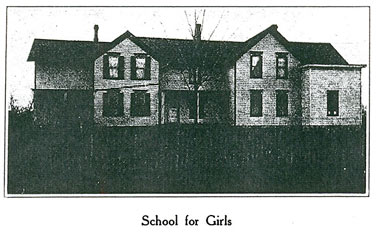 But the Swift Mansion, although vacant, was still very much present. It caught the eye of Reverend John Sprunger, wealthy industrialist and builder, and his wife, Katie, who upon the death of their child, resolved themselves to mission work. Sprunger had started the Light and Hope Missionary Society in 1893 and a print shop, publishing company and orphanage near Cleveland Around 1903, Sprunger purchased the nearby Hughes farm along with three other neighboring farms including the Howard's farm and buildings to house the children. The boys lived at the Hughes farm and the girls were housed at the old Howard farm. The workers lived at the old Swift Mansion. It was here they established the Light and Hope Orphanage that would eventually encompass over 500 acres and hopefully, become a self-sufficient farm and home for the children. It would be the old Swift mansion that would provide a boarding area for the many workers and assistants at the orphanage. The farm had separate dormitories for boys and girls at the top of the hill by the river, a chapel, school house, buggy shed and print shop for the Light and Hope publication. A 1910 U.S. census shows there were 45 people living on the property including 27 children, Katie and John Sprunger and 15 helpers and assistants. Sources state there could have been up to 125 children cared for on the property at a single time. From the onset, the orphanage
was plagued by complaints and investigations of abuse and slave labor at the farms. Beatings were a common form of punishment to the children and they were rented out to local farmers as workers. They labored at the farm and complained they were not allowed schooling.
Accounts from the children stated it was an unhappy life, many were beaten and the food was poor. It was breaking news in the Vermillion Telegram in September of 1909 when former children from the orphanage testified: "I have been beaten and seen other boys beaten with a strap in the hand of hired men or the preacher, and the food we had to eat was often spoiled . . ."
It was also stated the children found bedbugs, rats and lice in their beds commonly and on one occasion, the children were forced to eat a cow that had lay dead in a pasture. Leftover heads, livers and lungs of cattle were purchased as food quite often for the children. Prayer, alone at times, was used as a means to heal the children instead of medicines.
An underground railway to help children escape was even started in Vermilion in 1909.
Underground Railway Led From Orphanage to Vermilion Homes -Women of Vermillion Helped Youngsters To Escape Through Sympathy
- Three women who have befriended children who have run away, labored for the welfare of the place until they discovered how the children were treated, then they adopted for methods to take children from the home. One of the women who has a little boy in her possession says that she told several of the boys how to escape from the place and just how to get to Vermilion, and that she advised them that she would leave the door of her home open to them night and day. . . The Evening Telegram -
ELRYIA,
OHIO SATURDAY SEPTEMBER 4, 1909 - Underground Orphanage Led from Orphanage to Vermillion Homes
.
But the orphanage did stay open even after Sprunger's death in September of 1911. It was not closed until July of 1916 and was purchased by real estate investors not long after. Pelham Hooker Blossom of Cleveland purchased the Orphanage property. He leased it out to local farmers, then finally sold the land.The Swift home was burned down in December of 1923. It was surmised homeless people had taken up residence there, caught the place on fire. Now, the only things that remain are old foundation stones, slabs of rock and an old gate/hitching post. The old home where the orphanage was has a new house in its place.
And still, the ghost stories linger. It does not seem to matter Old Man Gore never burned up the place with orphans inside. People still smell smoke there at night. They say tiny, bloody footprints have been seen in the snow. There was always the frightening image of Old Man Sprunger chasing around little children with a stick to beat them.
No one seems to mind that nothing really remains but the old gate post to lead the adventurous back to the spot. There is something fun about searching out those treasures of the past that dead people once saw too. Besides, bad things happened to little children here, at least that's what the children said, that's what those who tried to save them said. People did die here—the two Swift children who are buried in the Gore Orphanage/Andress family Cemetery. There are probably a few settlers who died here even earlier than them. Perhaps Sprunger died here, too. At least one little orphan boy died nearby, 'coasting' on the back of a car. And those old, disturbing memories still linger of cruelty on the property to sad little orphans who may have returned to the place to haunt Old Man Sprunger and his hired hands for their wrongs. And there have been tales of a ghost child swinging on an old tree.
Maybe. It is worth the hike beneath the trees to check it out, find the old well, imagine what it looked like before it was burnt to the ground. Some put a little baby powder on the back of their car to see the tiny baby footprints and handprints show up in the powdery residue. Try it. Maybe, you'll see the ghost of someone's past like thousands before you. Because, they say they have.
Andress/Gore Orphanage Cemetery
10799 Gore Orphanage RdAmherst, OH 44001
41.336697,-82.331519
When I did a daytime run-through, I got a strange voice piping up over my own ramblings to some others ghost hunting with me. Our EMF meter kept screaming red and lighting up like crazy. I think it sounds like a child's voice saying Tryphenia. What the heck is that? Strangely, it is the name of Joseph and Elija Swift's five year old daughter who died in 1831. See what you think and let me know your thoughts on our facebook page!
Gore Orphanage - Click on the .wav file below to hear:
Does anyone else see a little girl peering out from behind the tree in the center of the picture? Or is it leaves? I looked at the other pics and there were not bunches of leaves lining up with it. Creepy.
This is the Swift Mansion when it was abandoned. If you look closely to the right of the house, you can see the gate post/horse tie to the right of the home. It is one of the few relics left of the once beautiful mansion.
And by the way, there never was a Gore Orphanage. Gore Orphanage was really Light and Hope Orphanage. Traditionally, 'gores' were the result of errors during land surveying when towns were laid out. It was an area between two adjoining towns that was technically not belonging to either. Such is the case with the 'Gore' in the original Gore Road. It was a small section of land between Lorain, Erie and Huron Counties mistakenly surveyed long ago. It was eventually added to Lorain County.
<![if !supportEmptyParas]> <![endif]>
There is not much remaining at the Swift Mansion—the hitching/gate post (you can see where it was in relation to the house in the image above on the right hand side of the home), slabs of rock, rock walls and a well.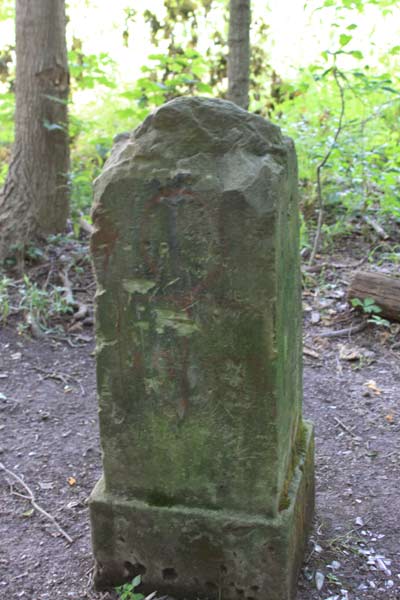 The property is now a part of Lorain County Metroparks. You can contact them for the current times the park is open to the public at: 12882 Diagonal Road | LaGrange, Ohio 44050
Phone: 1-800-LCM-PARK. Interesting historical information from a collection provided by Dan Brady: http://danielebrady.blogspot.com.
<![if !supportEmptyParas]> <![endif]>
---