Jackson County Ohio Ghosts and Hauntings -
Lake Alma State Park
---

Lake Alma State Park
OH 349, Lake Alma Road
Wellston, OH 45634
39.143924, -82.517452 Ghostly apparitions still enjoy the old amusement park that once stood on the island in the middle of the park lake.


Old Bridge in the 1900s


Picture of ghostly boaters taken with an infrared camera on the island


Picture of ghostly woman sitting at the location of the casino.

New Bridge 2013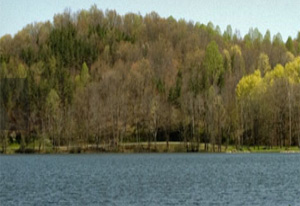 Casino at Lake Alma


Lady's Walk around the Island in the early 1900s

Lake Alma
In the early days of Jackson County, when coal was still a primary source of wealth for southeastern Ohio, C. K. Davis, a coal operator, built an amusement park on land now called Lake Alma State Park. The lake was originally formed by damming Little Raccoon Creek running along the park. The island you can walk to from a sturdy new bridge was formed from an eight acre hill that overlooked the valley. The island was named Davis Island and the lake was named for his wife, Alma.
The island was open from 1903 to 1910. It was a popular getaway for day tourists who came from as f
ar away as Columbus, riding on trains along an offshoot of the Hocking Valley Railroad. The amusement area contained a theatre with a seating capacity of 1800 visitors, a bowling alley (seating 500), a casino, a boat house, and a merry go round.
Alma Lake closed down in 1910. It would open again many years later, without the amusement park, as one of Ohio's state parks. It is still open today with the island as a picnic area, fishing, a beach and a campground.
The attractions have changed over the years along with the people who visit the area. However, remnants of the old island still remain including a few slabs of stone once marking the old buildings and the old Lady's Walk trail winding its way along the base. And of course, there are ghosts. People have remarked seeing folks still walking around the island. They have heard the sound of a train and laughter. Some have seen ghostly boats gliding across the lake.
---