Vinton County Ohio Ghosts and Hauntings - Moonville Tunnel
---

Moonville
Near Zaleski, Ohio
39.307273,-82.322445
The ghost of an engineer, a brakeman, a woman hit by a train and a bully haunt the tunnel.
Buy the book.
Or Find out more on the town and tunnel: Moonvilletunnel.com
Moonville started out small with just a couple families— mainly the Fergusons and the Coes sprinkled along the rugged forestland. The Coes built a steam sawmill and operated a mine. The Fergusons had a farm. During the 1850s and as railways were being built through southern Ohio, Coe was able to convince the Marietta and Cincinnati railroad to snake its way along his property so he had a cheap way to transport his coal and lumber. He petitioned the county for a road leading from his property to Mineral and Zaleski. Such, the town of Moonville was born.
There were never more than a 100 or so families living in and around the community. It grew enough to have a post office, depot, school, grist and saw mill, and houses scattered around the hillsides. Samuel Coe built a big house between the bridge and railroad tracks. Still, it was a dark section of the Marietta and Cincinnati. Engineers hated this rough patch of forested and twisting railway with deep cuts in the hills leaving rocks scattered on the tracks. It was akin nowadays to driving a car down a lonely stretch of highway at one-hundred and ten miles an hour and turning out the lights. It was difficult to see anything in the train's path - logs, flooded water easing over the tracks from Raccoon Creek, deer or people and other trains. And, sometimes, they collided here . . .
The first sighting of the ghost was noted in a January Chillicothe Gazette in 1895:
The ghost of Moonville, after an absence of one year, has returned and is again at its old pranks, haunting B&O S-W freight trains and their crews. Monday night the ghost appeared just east of the cut, which is one half mile the other side of Moonville. It showed up in front of fast freight No. 99 west bound, which is due at Moonville at 8:50 p.m. The train was hauled by engine 226, in charge of Engineer William Washburn. The conductor was Mr. Charles Bazler. . .
Who was this Engineer Lawhead and who was the ghost?
On a cold November night in 1880, 36 year-old Engineer Theodore Lawhead was driving a train along the dark passage from Cincinnati to Marietta and was passing through the tiny town of Moonville. It was a typical run except the dispatch failed to note that two trains were running the same track, one eastbound and the other westbound. In only a matter of moments, the two collided. Engineer Lawhead and his fireman, a man by the name of Krick, were killed instantly.
It wasn't long after when the ghost started showing himself on the tracks to trains running the route and to people walking the tracks. He was described as: The ghost was attired in a pure white robe, and carried a lantern. It had a flowing white beard, its eyes glistened like balls of fire, and surrounding it was a halo of twinkling stars. As the train approached, the lantern was swung across the track. Engineer Washburn gave the proper whistle signal, and stopped the train. As he did so, his ghostship stepped off the track and disappeared amidst the rocks near by.
And even today, visitors coming to the tunnel have taken pictures only to find the image of a man on the far side of the tunnel. People have heard trains, felt "strange" in the tunnel. One couple on our tour said the girl felt something touch her shoulder when they were there once.
And pictures and video have been taken in the tunnel, including these below:
Interesting Photographs taken by Nicholas Viltrakis at Moonville Tunnel. Click for larger view. . .
Look at lower right edge at the far end of the tunnel.
This is an enhanced view of the image at the right end of the tunnel.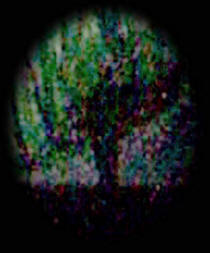 The original photo as submitted by Michelle Schrader. Here is her story: "
I was camping at Lake Hope and I fully intended on visiting the Moonville Tunnel while I was there. I had previously visited the tunnel before this particular visit. I went with two other friends in the middle of the day last fall, at the beginning of October. We took a bunch of pictures, I was using my digital camera. I did not notice that there was a "figure" in the picture until I downloaded it on to my computer when I got home. Upon magnifying the shadow, it appears to be a manly looking figure. It gave me complete chills. I have shared the picture with lots of people, and we are all baffled. There is no reasonable explanation for the figure. It does go along with the legend of the tunnel, though. Apparently, based on the story that I have heard, there was a brakeman that was killed in the tunnel, and if you look at the figure, it appears that his leg is missing from the photo, you can see right through his leg. Creepy, huh? "
Click for larger view:
But Engineer Lawhead may not be the only ghost sticking around the tunnel. I counted over 25 deaths near Moonville between 1859 through 1986 due, in part, to the railway. These do not include deaths due to "natural" causes, for example, Cliff Coe (who was one of the family members of the original landowners) died of a heart attack inside the depot in May of 1899. Here are a sampling of a few.
James Hood, aged about thirty, a resident of Zaleski, while returning from Athens on the fast line on Friday, attempted to jump oil the train one quarter mile east of the depot, and opposite his home. In doing so he was thrown about twenty feet against a post, and his neck broken. He has been in the habit of jumping off trains at this point in order to save walking back from the depot. He leaves a wife and three children. (Athens Messenger, May 20, 1880)
1880 - James Hood dies jumping off the train near Moonville:
Luhrig, O., Sept. 4.—The badly mangled body of Allen Albaugh, a middle aged miner of this place, was found under some underbrush near Moonville Saturday . . . . Albaugh, accompanied by his brother got on a passing train and started for Zaleski.. It is supposed that he staid on the train until a tunnel was reached, and that he was knocked off in some manner. When the body was found, one hand was cut off.. . (Athens Messenger and Herald, September 1907)
Mike Shea Relates it this way in August of 1961 - Allan Albaugh was drinking and hopped a train at Zaleski with a jug of whiskey. No one heard from him. They found him dead this side of Ingham near Bear Hollow. Mike Shea smelled him one day and Frank McWhorter and a one eyed fellow found him when attracted by the smell. He was full of maggots, been dead several days. Mike Shea, 1961
1907 - Allen Albaugh dies jumping a train
The McArthur Enquirer, of last week, says: As we go to
press this (Thursday) afternoon we learn that Henry
Shirkey, the youngest son of John Shirkey, of Vinton
Station, was severely injured by jumping from a box car
of a freight train going West about one-fourth of a mile
west of Vinton Station, at a quarter past 4 o'clock on
Wednesday evening, and died 20 minutes before 6 o'clock
this (Thursday) morning. Athens Messenger, Feb 17, 1876
Jumping the Train
1876- 13 year old Henry Shirkey tried to jump a train in 1876 and his left leg was crushed just below the knee. (Vinton Record, 17 Feb 1876).
Brakeman on the Marietta and Cincinnati Railroad fell from the cars and was fatally injured. " . . . Due to "too free use of liquor . . ."(McArthur Democrat, March 31, 1859)
Brakemen falling under wheels
1859 Unknown Brakeman
A brakeman of the accommodation named McDevitt was caught between two colliding platforms and had both legs and one arm horribly mangled. . . McDevitt survived his injuries only a short time. The deceased we learn was about 21 years of age, and leaves a widowed mother . . . (Athens Messenger, July 17, 1873)
The west bound B & O. S.-W. morning freight through here on Sunday morning killed an old man at Moonville, Athens county. The train broke at Moonville and the old man, whose name as not been learned here, attempted to cross between the sections, resulting in his death. Chillicothe Gazette June 16, 1902
Levi Sales was hit by a train after drinking too much and falling asleep on the tracks.The Vinton record., June 04, 1874 states:
---